Time for growth: Interview with weCan CEO Benedek Tóth
Building a rapidly growing company is a nice problem to have—but a hard one to manage well. In this interview, Benedek Tóth, our Chief Executive Officer, talks about his leadership experience, from the founding of the company, through the opportunities for growth in the pandemic, to the essence of the "weCan" attitude. 
Tell us about the founding of the company. Why does weCan stand out from other IT enterprises? 
 I have always felt the potential and drive to become a business leader. Thus, after six years of experience as a consultant, I decided to establish weCan. The company was born in 2016, but the time for professional breakthrough came in 2020, when we landed a huge project for a Dubai streaming provider with 3+ million customers.
 Preparations started in April and by September we had an effective team in place – and from then on I was swept away. So much so that we celebrated our sixth birthday just a few weeks ago!
 I firmly believe that the greatness of weCan lies in our value proposition and unmistakable "can do" attitude. We strive to provide our services with our clients' success as our number one priority, focusing on maximizing the business impact of our developments, while applying cutting-edge solutions and the latest technology. Our experts are committed to providing only the highest quality developments and at weCan we always focus on solutions rather than problems. So far with unabated success.
The company was born during COVID-19. What is your experience, did you benefit or suffer from gaining ground during the pandemic?
Despite the challenges, we have absolutely managed to take advantage of the global crisis, by immediately embracing digitalisation and online working.
 While many companies were hesitating whether to invest in these developments or interview for new positions under Covid, we have built a completely encounter-free organization. From electronic signatures to online hiring processes to working from home, we can do it all remotely. 
 The fundamental nature of development work, which does not require face-to-face meetings but demands a high level of concentration and attentiveness, also contributes to our success. However, it was only after the reopening of the world, as the company expanded internationally, that it became clear how much we had benefited from being born during the pandemic. In building our global team, we didn't need to introduce a new corporate culture, just simply expand what was already in place and working excellently. 
You emphasized previously, that it was your goal when you founded the company to prove that a Hungarian team from Eastern Europe can write world-class code. What is your inspiration behind this idea?
During my experience with the consulting firm, the question of working abroad had been a constant source of tension. I was the only expert at the company who had international experience, having worked with Deutsche Telekom in the Czech Republic, and I was convinced that working globally was the key to the future and to success.
 However, it was also my determination, which is now known as "weCan attitude", that played a role in this objective. I considered it as an inspiring professional challenge to prove that it is possible to become a supplier to global companies from Hungary. And I believed that our team is skilled and determined enough to demonstrate this.
More than a hundred successful projects, cutting-edge technology and weCan's innovative perspectives alone answer the question, but as the CEO of the company, what would you say – why join weCan?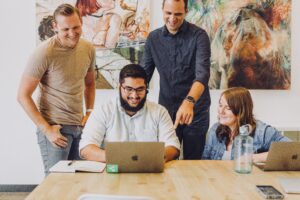 On one hand, because we have the privilege of working on genuinely exciting projects utilizing the latest technologies.
On the other hand, I would argue, that if someone has ambition, a desire for responsibility and professional growth, then they have found a partner in us. We provide fast development opportunities from a junior level, as evidenced by the fact that our new colleagues can write effective code after just one month of work, in a system for example, that is used by three million people.
 We value excellence in our work and in professionals too, so if you are ready for an exciting position with professional development opportunities and plenty of challenges, I encourage you to apply for our open positions!